WordPress SEO – Optimising WordPress Blogs for Search
Whether you've just got the keys to a shiny new WordPress site or you've been blogging for a while, this WordPress SEO guide aims to help you make the most of your content creation efforts with some simple WordPress search engine optimisation tips. By putting a bit of extra thought into what and how you post your WordPress blog can be an effective means to extend your site's visibility in Search for some valuable keyphrases.
Choosing a blog topic
Undoubtedly the foundation of a successful blog and an effective SEO strategy is great content. If you publish useful, engaging and relevant content that your target audience will find valuable or entertaining (preferably both!) then the battle is already half-won.
Don't worry if you're initially stuck for a topic to blog about, an easy starting-point is to think about the sort of questions a typical visitor to your site might have and answer one of those.
For example let's say your website sells garden sheds. A common question amongst potential customers might be 'How do I build a shed base?' By attracting people searching that on Google to your site via a new How-To blog post covering that very topic you'll be driving traffic that has a good chance of converting into real business.
If a question doesn't spring readily to mind then try entering 'why' or 'how', plus some of your keywords into Google and see what questions comes back. Better still dive into your website's Google Analytics and see what question-based search queries visitors are already coming to your site via.
When formulating your topic think about how you can make it what is called 'evergreen content' – content that will always be relevant to your target audience and doesn't date (or will be easy to keep up to date). While there is certainly a place for timely topics, evergreen content is likely to deliver more long-term value.
Post Title & URL
Your post's title is worth particular consideration as it's not only one of the most visible elements on a page, but carries a lot of SEO weight too. Try to find a healthy balance between creating something that will interest real visitors, but also hit a good mix of relevant keywords.
In most cases WordPress will automatically mirror your post's title in the page's HTML Title tag. The contents of this Title tag don't display on the page itself, but is typically what is shown by Google etc. With this in mind you should try and keep your post's title to under 55 characters (including spaces) so that it won't be truncated when shown in the search results.
WordPress will also use the Post Title to generate a unique URL for the page. At lot of the time this works well, but sometimes it's worth tweaking the result to increase the SEO value. If we take the URL of this post as an example, by default WordPress will create this: pixelparlour.co.uk/2013/04/wordpress-seo-optimising-wordpress-blogs-for-search which is a bit on the long side. Something like the following would be far more sharable and to-the-point, whilst still hitting all the important keywords: pixelparlour.co.uk/2013/04/wordpress-blog-seo
Creating an SEO-friendly structure
You can make your job of penning SEO-friendly content easier by establishing a clear structure. Start by breaking your chosen topic down into a handful of sub-topics, each of which will become a section in your post. Ideally each will be based around a popular keyphrase related to the subject you've chosen. So returning to our thrilling shed base how-to example, we might include sections related to: The best shed base materials, Preparing the ground for your base and Pre-made shed base kits vs. building your own – All of which are bang on-topic and will extend the range of related searches our post could be discovered for.
We should reflect this structure in the page's HTML markup, wrapping each of our section titles with a Heading tag. These Heading tags provide the search engines with useful information about the hierarchy of elements within a page.
Ideally there would be just one H1 tag on a page, which would be used for the post's title. This could be followed by a single H2, providing a sub-title (expanding on the title and working in a few more keyword variations) and then multiple H3 or H4 tags for section headings within the post itself.
Adding links
Linking phrases within a post to other content within your website is a great way to build valuable internal links. It's most effective when it also enhances the reader's experience, providing access to additional, related information. For example whenever we mention a web design topic we've covered in a previous post, we'll link through to it from that word or phrase. So if I was to mention Responsive Design I might link that through to the relevant post from our Jargon Buster Series.
It's important not to overdo this linking, a couple of times across each post keeps it a double win for SEO and human optimisation.
Optimising images
Images are a great way to make your content more engaging and also offer their own optimisation possibilities. Where images are used in a post it's a good idea to give them appropriate file names before uploading. A photo named img_005633.jpg has very little SEO value but by simply changing this to match our blog post title or one of our top keyphrases our image is now positively contributing to our page's overall optimisation. It also makes it more likely that your post could be discovered via a Google Images search.
WordPress makes it easy for us to build on this further by providing a text label known as the Alt tag to accompany the image. This text isn't visible on the page itself but it does appear in the page's code and will be read by the search engines.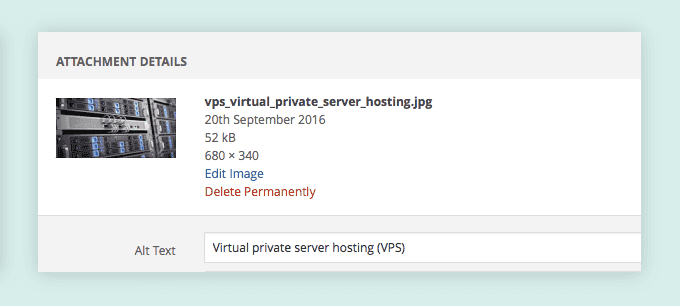 Considering HTML tags
No discussion of WordPress Blog SEO would be complete without mentioning the Meta Description Tag, which allows you to provide a concise overview of the page's content.
This snippet is typically what displays beneath the Page Title in the search results, so while Meta Description's impact on rankings is somewhat less then it used to be, it does play an important role in encouraging a searcher to click through to your site.
An easy format to follow is to use two equally balanced sentences, totaling around 155 characters in length and including a clear call-to-action. Although the Meta Description might not be an important ranking factor it's still a good idea to also try and work in the top keyphrases for that post as Google will bold any words which match the searcher's query, helping them see that your post is relevant to what they've searched.
Using WordPress Categories & Tags
Together a collection of complementary blog posts can create a stronger whole, so it's a good idea to group your posts around specific content themes and turn these into WordPress categories. If these categories can directly match one of your top keywords then so much the better, but don't force it. Think about what will seem logical to a real visitor and keep the list to a sensible length. If you find you've created more then about 10 categories then it might be worth re-evaluating your list.
Tags are another way to group content in WordPress around certain keywords, allowing you create connections between posts across different categories. For example, let's say your blog reviews holiday accommodation and you've structured the categories around different accommodation types, e.g, Hotels, B&Bs, Self-Catering etc. You might use tags to label each review with a location, mark the accommodation as Pet-Friendly, or maybe highlight a theme such as 'Romantic' or 'Rustic'. When a visitor clicks on one of these Tags, WordPress will show them a list of all the other blog posts marked with the same label.
It can be tempting to overuse them and stuff every post with Tags covering all your keywords. But doing so not only dilutes their SEO valuable, but also their utility for real visitors, so it's best to use no more than a handful per post.
Remember the humans
Given that Google's aim is to deliver the best possible search experience for real humans, you should always ensure that your SEO efforts don't compromise the utility of your WordPress blog for actual visitors. If what you're doing feels like an attempt to trick Google, then you're probably straying into the realms of black-hat (or at very least grey-hat) SEO and leaving yourself open to changes in Google's ranking algorithms to counter these.
By sticking to creating genuinely useful content and optimising subtly, in a way that actually improves the experience for the reader, you'll be building real long-term value with the time you invest.
Receive Updates by Email
Sign up for our latest knowledge base articles delivered direct to your inbox.
Easy unsubscribe at any time. Learn more about how we handle your personal data in our Privacy Policy.