MacOS updates come out on a fairly predictable release cycle these days, with a developer preview in early summer and full public release in September/October. If like us you're using Macs in a production environment you'll want to be careful about how you handle any major operating system updates.
Our usual approach is to upgrade in late December. By then any major bugs have usually been ironed out and most third-party software has also been brought up to date too. The upgrade process we follow looks a bit like this…
Step 1: Check that you're eligible for the upgrade
As with all OS updates some older hardware inevitably falls by the wayside. Before starting the upgrade process be sure to check that your hardware will support the new relase of macOS: https://www.apple.com/uk/macos/how-to-upgrade/
Step 2: Wait for the dust to settle & set aside some time
Whether you wait to jump in or not it's a good idea to start with just one machine and some thorough testing. See if anything breaks, before rolling an OS update out to your whole studio.
You'll also want to allow for some downtime around the upgrade. If you follow all the steps below, the whole process could take several hours, so this isn't the sort of thing to attempt in a tea break or in the run-up to any tight production deadlines.
Step 3: Create a bootable backup
A bootable backup is your safety-net should the worse happen, allowing you to quickly jump back to your Mac's pre-update state and continue working as before. The 'bootable' bit is key as it means that in addition to all your data, all the relevant system files are copied to allow you to actually boot your Mac from the backup volume you create.
To do this all you need is an external hard drive and a copy of SuperDuper, which is free to download from: www.shirt-pocket.com/SuperDuper/
First format your external hard drive using Apple's built-in Disk Utility app. Select the volume from the list on the left then choose Erase and Mac OS Extended (Journaled) as the format. The second step is to create a boot partition. Selecting your external hard drive again choose the Partition tab and select 1 Partition from the Partition Layout drop-down. Under Options ensure that GUID Partition Table is selected before hitting Apply.
Now you're read launch SuperDuper! and run a full backup of your Mac's internal drive to the new volume you just created. Depending on how much data you have to copy and the speed of your external drive this part can take a couple of hours.
One important thing to note here is that even if your Mac's internal drive is encrypted using FileVault, the cloned copy won't be as the drive is in its unlocked state when you're logged in. To benefit from the same protection on your clone you will need to boot from that copy and then turn on FileVault inside there.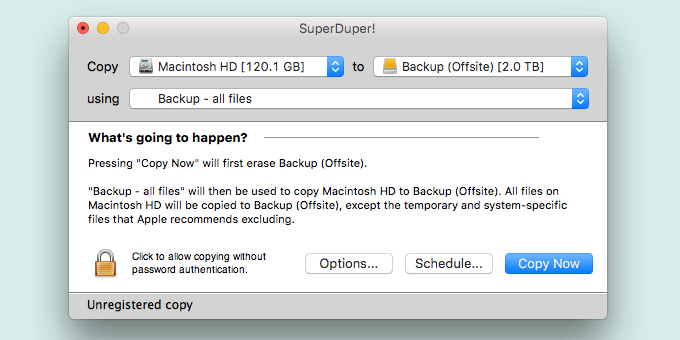 Step 4: Run Software Update
Backup done it's a good idea to make sure that all your apps are up to date before starting the upgrade so check the App Store and then any individual apps that have their own updaters.
Step 5: Backup with Time Machine
If you're using Time Machine for your local backups then it's worth running a final backup pre-upgrade to make sure everything is there should you need to do a restore. If you aren't already encrypting your Time Machine backups then this is a good opportunity to start. It's a simple checkbox setting that will help prevent anyone else accessing your data should your backup drive get lost or stolen. Here's Apple's support article.
Step 6: Download & install the update
Head over to the Mac App Store, search for 'macOS Mojave' and select Download. The update usually weighs in at around 5GB so depending on your connection and how busy the store is it might take a little while to download. This is usually a good time to make another cup of tea.
Step 7: Configure & test
All being well your Mac should run the installer and reboot into the new version of macOS. Launch your key applications and check everything is working as expected. At the time of publishing we have updated a range of desktop and laptop Macs in the studio and have only experienced very minor issues with the 10.14.2 release, so for us at least it is now production-ready.
Receive Updates by Email
Sign up for our latest knowledge base articles delivered direct to your inbox.
Easy unsubscribe at any time. Learn more about how we handle your personal data in our Privacy Policy.